'First Half' Half Marathon
Date: Sunday, February TBD, 2021
Time: 8:30AM
Start & Finish: Roundhouse Community Centre, 181 Roundhouse Mews
Age: 16+
Course closes: 11:30AM
Capacity: Limited spaces
Registration open soon! Follow us for updates @firsthalf @runvancanada or Email Subscribe
Registration includes:
Half Marathon finishers' medal
Exclusive technical tee
Race bib with built-in timing chip
Free refreshments
Free, convenient and secure gear check
On-course services including water, electrolyte, gels, first aid and more
Exciting Finish Line in Yaletown
Post-race celebrations with hot food and lively entertainment
Age category and overall prizing
Course Description
This very scenic 21.1KM route goes out on the Seawall, to English Bay, through Stanley Park and back again. The course is marked at every kilometre and at halfway. For more detail, please see the course map.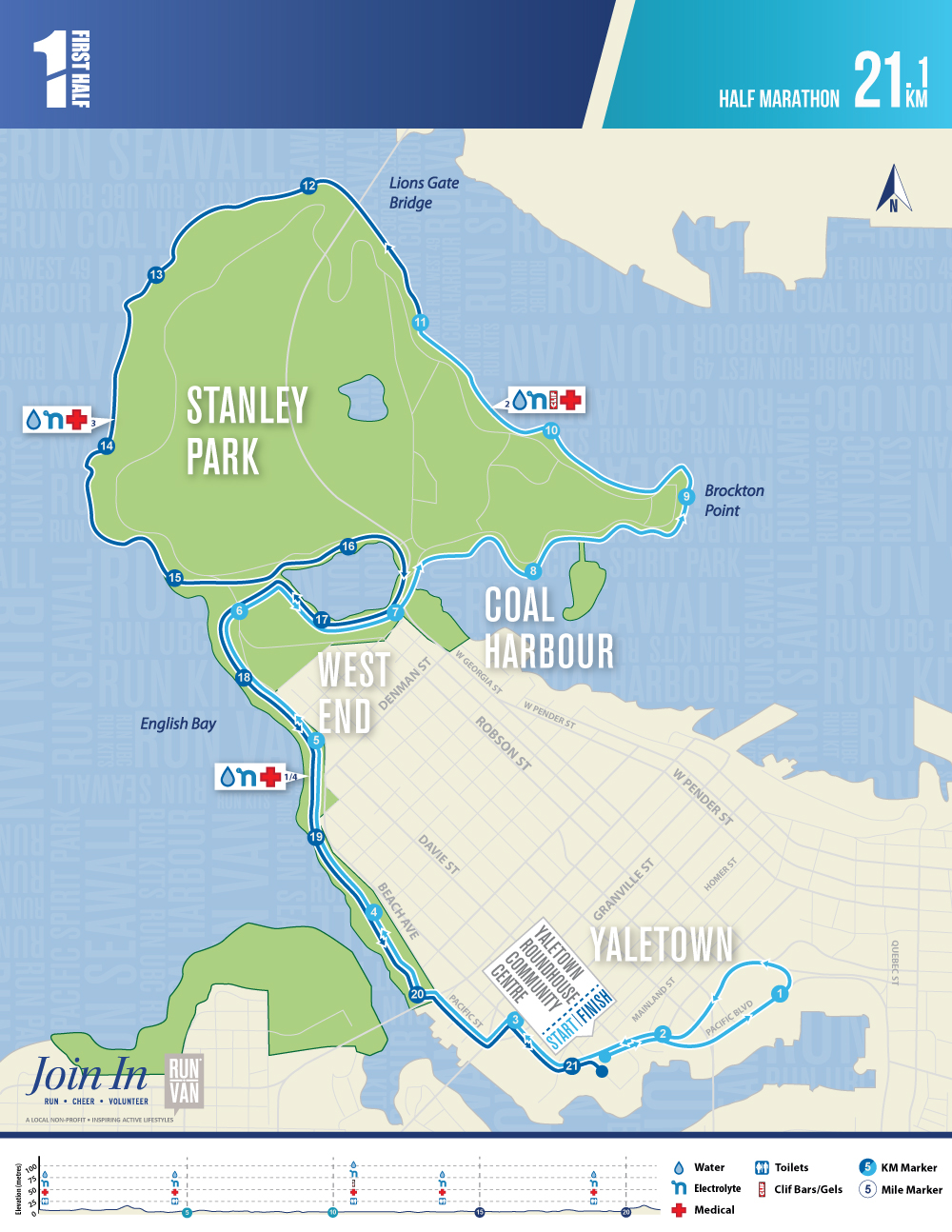 Water and electrolyte will be available at four locations along the route. Fuel/gel will be available at one location.
First aid will be located at every station along the course and at the Finish Line.
Washrooms will be clearly marked. They are available inside the Roundhouse Community Centre and there will be additional Port-a-Potties outside on Pacific Ave, giving easy access to the Start Line. Line up early, as there is always a rush just before start time.
There are also public washrooms around the course at most concessions around Stanley Park.
The course is accurately measured and certified.
Start Line
The race starts at 8:30am sharp on Pacific Boulevard at Davie Street in the Eastbound lanes. Please arrive by 7:30am on race day if you plan to use Package Pickup and/or Gear Check.
Pacers will be seeded at the Start Line relative to their estimated finish times. Please seed yourself accordingly. Corrals: 1:44 or less = Black Corral, 1:45 to 2:00 = Grey Corral, 2:01+ = Blue Corrall.
Parking and road closures will be in effect from 1:00am on Drake Street from Pacific Boulevard to Marinaside Circle and from 5:30am on Pacific Boulevard from Granville Street to Nelson Street. Find complete road and parking closure info at firsthalf.ca/detours.
There is limited parking under the Roundhouse Community Centre. Consider taking the Canada Line to Yaletown/Roundhouse Station – a block from the Start Line – or carpooling if possible. Arrive early if driving as you may have to park some distance away. Please remember – leave nothing of value visible in your vehicle. Utilize the complimentary Gear Check.
When in the Roundhouse or in line at the portable toilets on Pacific Ave, give yourself sufficient time to move to and position yourself in the Start Line area.
Package Pickup
All runners must pickup their own race kit and present photo ID and their bib number during one of the times listed below:
Friday, February 7, 3pm to 7pm
Forerunners Main St, 3889 Main Street, Vancouver, BC
Saturday, February 8, 10am to 6pm
Forerunners Main St, 3889 Main Street, Vancouver, BC
Sunday, February 9, 6:30am to 8am
Roundhouse Community Centre, 181 Roundhouse Mews, Vancouver, BC
Gear Check
Free gear check is provided for your convenience and is located inside the gym at the Roundhouse Community Centre.
Please bring your own bag and have it ready to check before you arrive at Gear Check
Detach the tear-off tag at the side of your race bib and we'll zip tie it to your bag
After you cross the Finish Line, return to Gear Check and show your bib to collect your bag
Note: All clothing discarded near the Start Line will be donated to charity.
Timing and Results
Electronic chip timing will be provided. Find your bib number and check your official results at the Finish Line or at firsthalf.ca/results
The First Half course is measured and marked at every kilometre
Digital clocks are positioned at the Start and Finish Line
Digital clocks display unofficial finish times which are unique to every individual runner's chip
Awards
Awards presentation and draw prizes will take place at 10:45am at the Roundhouse Community Centre.
Cash prizes go to the top men and women overall ($800, $500, $300, $200, $100). A $1,500 bonus prize is available to any man or woman who sets a new First Half course record.
Prizes will also be awarded to the top 3 finishers in each age category, by gender in 5 year age groups from Under 16 to 100+, plus there's a new Dan Cumming Memorial for Best Age-Graded Performance.
To be eligible for an award you must have completed the official route within the race cutoff time.
Overall and Age Group awards are based on Gun Time.
Shirt Exchange
Subject to availability, clean unworn, unwashed shirts may be exchanged on Race Day, 10:30am-12pm inside the Roundhouse Community Centre gym. Race shirts will not be mailed. Thank you for understanding.
Restrictions
For safety reasons, the following applies:
The course has a 3 hour finishing time limit and will be closed promptly at 11:30am
Race walkers are only permitted if they expect to finish in under 3 hours
No early start for walkers
We regret that the race is not suitable for recreational walkers, strollers, baby joggers, or rollerbladers. If you plan to race with a wheelchair, please contact us in advance: info@runvan.org
No pets are allowed on the course
Race Series
The First Half is part of the BC Super Series and RUNVAN® Grand Slam.
The event was originally established as a build-up to Vancouver's only Marathon, the BMO Vancouver Marathon.